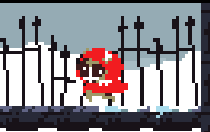 The Red Cape Demon Charger is an enemy that can be encountered in Hell in Momodora III.
As the name suggests, the Red Cape Demon Charger will run towards you to damage you by contact, they therefore function similar to Tomato Goblins.
On their own, they are rather manageable: Just hit them to push them away from you. They can get rather tedious in combination with other enemies though.